Canadian intelligence agents have heard Khashoggi tapes, Trudeau says
Comments
By Saphora Smith and Reuters with NBC News World News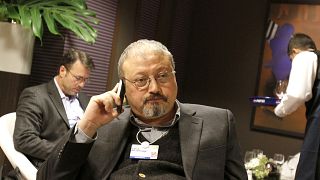 -
LONDON — Canadian Prime Minister Justin Trudeau said Monday that his country's intelligence services have listened to Turkish recordings of what happened to Saudi journalist Jamal Khashoggi.
"Are you saying that Canadian agents have heard these recordings?" asked one reporter at a press conference in Paris. "Yes," replied Trudeau, adding that he has not himself heard the tapes.
"Canada's intelligence agencies have been working very closely on this issue with Turkish intelligence, Canada has been fully briefed on what Turkey had to share," he said.
Khashoggi, a Washington Post columnist and critic of Saudi Arabia's de facto ruler Crown Prince Mohammed bin Salman, was killed by a team sent from Riyadh after he entered the Saudi Consulate in Istanbul on Oct. 2. Saudi authorities have acknowledged that the killing was premeditated, but blamed the murder on rogue operatives. His body has not been found.
Trudeau did not provide details of what was on the recordings or whether they were from inside the consulate on the day Khashoggi was killed. Turkish sources have said previously that authorities have an audio recording purportedly documenting the murder.
Trudeau is the first Western leader to officially confirm that his country's intelligence has heard the recordings related to Khashoggi's death. He added that Canada was working with "like-minded" allies on what steps to take next with regards to Saudi Arabia, which has been widely condemned for the loyalist-turned-dissident's murder inside the consulate.
Trudeau's remarks come after Turkish President Recep Tayyip Erdogan said Saturday that Turkey had given recordings of what happened to Khashoggi to Saudi Arabia, the United States, Germany, France and Britain.
"We gave the tapes...They have listened to all the conversations in them. They know," Erdogan said. NBC News has not verified his claims.
The French Foreign Minister Jean-Yves Le Drian said Monday he had no information on the recordings related to Khashoggi's death. "If the Turkish president has information to give us he should give it to us," Le Drian told French television broadcaster France 2.
Secretary of State Mike Pompeo spoke with the crown prince Sunday and reiterated that the U.S. will hold those responsible for Khashoggi's killing to account, according to state department spokesperson Heather Nauert. The readout made no mention of the tapes. Pompeo has repeatedly denied having heard the tapes.
Canadian-Saudi relations have been strained in recent months after Ottawa criticized Riyadh's treatment of women's rights activists in August. Saudi Arabia retaliated by expelling Canada's ambassador, withdrawing its own envoy from Ottawa and other punitive measures.
The crown prince has attracted international attention for overseeing a widespread crackdown on dissent including death sentences for three prominent clerics — an unprecedented move — and the arrest of women's rights activists.