Israeli raid inside Gaza leaves Hamas commander and Israeli soldier among dead
Comments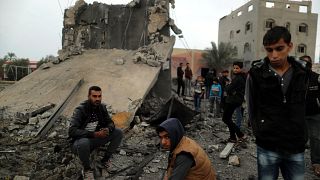 Seven Palestinians including a Hamas commander, as well as an Israeli colonel, have been killed in Gaza after Israel carried out an undercover operation in the territory which appears to have gone wrong.
The exchange has brought a security alert along Israel's border with Gaza amid fears that tensions may be revived after a recent period of relative calm.
Benjamin Netanyahu cut short a visit to Paris to return home and deal with the matter. The Israeli Prime Minister had been due to meet President Emmanuel Macron on Monday in the French capital, where he attended World War I commemorations over the weekend.
A Hamas spokesman has condemned what he called a "cowardly Israeli attack".
Israel 'did not intend to kill terrorists'
Israel's military has claimed that the intention of the operation was "not to kill or abduct terrorists, but to strengthen Israeli security". A spokesman told Israeli army radio that covert missions were mounted regularly, suggesting that it may have been an intelligence-gathering mission.
This has been interpreted as meaning that it was an operation that went wrong, rather than a deliberate mission to target Hamas militants – a tactic that has been controversial in the past and has been largely abandoned.
According to Hamas – the Islamist militant group that dominates Gaza – the Israeli operation took place about three kilometres inside the territory, near Khan Younes in the south.
Israel has said its forces returned fire, but Hamas claimed that Israeli assailants fired on a group of armed Palestinian men from a passing car, killing the deputy commander of its military wing. He has been named as Nour Baraka.
There followed an exchange of shots, while Israeli air strikes saw over 40 missiles fired into the area, Hamas added. Meanwhile the militant group says its gunmen chased the Israeli forces back to the border.
Hamas says six of its militants, including the commander, were among the seven Palestinians who died.
The Israeli military tweeted to say that during "special forces operational activity" in Gaza, an Israeli officer was killed and another injured during an exchange of fire. It later identified the dead officer as "Lt. Col. M.", adding that his family had been notified. The wounded officer is said to be in a stable condition in an Israeli hospital.
Israel claims that Hamas responded by launching missiles into Israeli territory, which it says caused no injuries or damage. Three of 17 rockets fired were intercepted, the military said.
Sirens sounded amid a security alert near Israel's border with Gaza. A railway line was closed and school was cancelled.
However, there were no new reports of rocket fire on either side during Monday morning.
Peace efforts
The confrontation happened just as efforts were intensifying to achieve a long-term ceasefire between Israel and Hamas, involving Egypt, Qatar and the United Nations. Reports say some progress had been made.
Netanyahu – who was due to meet his security cabinet upon arriving back in Israel – has said the operation was necessary to bring calm to southern Israel. Earlier on Sunday he claimed that "internal tensions" were destabilising Gaza.
At the same time, the prime minister also said that he wanted to avoid a "humanitarian crisis" in Gaza, where conditions are described as desperate.
Israel has allowed diesel fuel to be supplied to Gaza to provide electricity, and has authorised Qatar to pay $15 million in the first installment of salaries for civil servants in Gaza. The first deliveries began on Friday, when suitcases containing cash were taken across the border.
However, the move is reported to have brought a dispute between rival right-wing elements in Netanyahu's government.
The renewed hostilities follow months of clashes since Palestinians began a series of weekly protests in March, along Gaza's border with Israel, demanding the right of refugees to return to their ancestral homes.
Since then more than 220 Palestinians have been killed, mostly by Israeli fire – while the number of Israeli soldiers to have died has now risen to two, following the latest confrontation.