European leaders on nationalism – are they right? | Raw Politics
Comments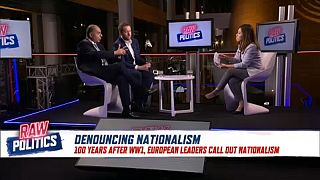 In separate speeches, French President Emmanuel Macron deemed nationalism "the exact opposite" of patriotism, German Chancellor Merkel shared her fears that "blinkered" nationalist views "may gain ground once again", and European Council President Donald Tusk said supporters of nationalism in Europe were a "fundamental threat".
On Monday's episode of Raw Politics, Euronews' political editor Darren McCaffrey and British MEP Sajjad Karim debate on whether the European leaders' criticism of nationalism is justified as World War One commemorations begin to subside.
Watch more in the video player above.