Romania's EU Affairs Minister Victor Negrescu resigns — media reports
Comments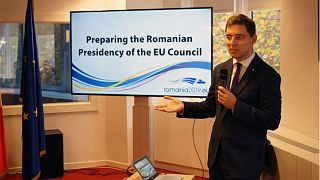 Copyright

Twitter/ROPermRepEU
Romania's EU Affairs Minister Victor Negrescu has resigned, AFP said Saturday, citing media reports.
The Romanian government official was in charge of the country's preparation for the Council of the EU presidency in January and his departure could disrupt arrangements.
"From what I understand, this resignation did take place," Rovana Plumb, the minister in charge of European funds, told News.ro.
Negrescu, 33, told reporters he would clarify his future position in the framework of the Social Democratic Party and the government but did not confirm the resignation, according to AFP.
The minister may have decided to throw in the towel after being reproached by leaders in his party for his "failure to soften" Brussels, said news website HotNews.ro.
On Thursday he tweeted about a "positive meeting" concerning the rotating presidency.
The European Parliament is due to adopt a resolution Tuesday that denounces several laws passed in recent months by the leftist majority in Romania, which critics say threaten the independence of judges and the fight against corruption.
During a debate in Strasbourg last month the European Commission once again called on Bucharest to respect the rule of law before its six-monthly EU presidency, which starts on January 1, 2019.
"The government has crossed several red lines concerning values and it must change course," said German Manfred Weber, leader of the European People's Party (EPP).
Brussels will also on Tuesday publish a progress report on justice reform in the country as part of a verification mechanism put in place when Romania entered the bloc in 2007.