At least ten dead in Brazil landslide
Comments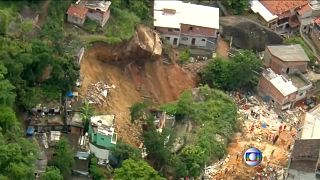 Rescuers are searching for survivors of a mudslide in Brazil that has left at least ten people dead including a child. At least four people are still missing. It happened in the early hours of Saturday morning in the Niteroi area outside the capital Rio de Janeiro. Emergency workers said eleven people were pulled alive from the rubble, including a baby.
"I have a friend who lives up here." said one woman. "She called me at around 4:40 am in the morning to alert me that my cousin's home had fallen."
"I saw moments of desperation, with people crying," said this man. "This is the first time I have experienced something like this. I saw a group of people trying to save a person who was alive in the rubble. That's what I saw.
According to rescuers, nine homes and a local business were affected by the landslide following days of heavy rain. Volunteers are helping to clear the mud and debris.
"I was able to rescue my grandson who is at the hospital," said another woman. "My two daughters are at the hospital and so is a couple that I know. My eight-month granddaughter is also there."
Some areas of Brazil are prone to landslides after or during heavy rainfall. Many of the poorer residents live in hilly areas that are most at risk, often in makeshift dwellings that have not been authorised.
One of the worst incidents was in 2011 when hundreds of people were killed in Rio state after several hillsides collapsed.