America's role remembered, 100 years after end of WWI
Comments
By Carlo Angerer and Rachel Elbaum with NBC News World News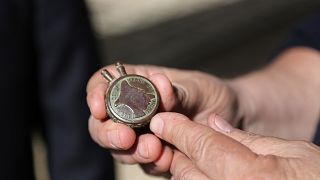 -
THIAUCOURT, France — On a recent Saturday, hundreds of U.S. and French soldiers marched up a tree-lined parkway to the hilltop St. Mihiel American Cemetery.Residents, many of whom displayed U.S. flags in the windows of their homes, lined the street or joined the soldiers for a memorial ceremony at the cemetery, where 4,153 Americans lie in their final resting place, marked with a marble cross or a star of David.St. Mihiel, along with the eight other cemeteries in Europe where U.S. servicemen are buried, stands among the most visible symbols of a war that America has largely forgotten.About 4.7 million Americans served in uniform during World War I, and almost 117,000 were killed. Twenty-six thousand died during just seven weeks of combat in 1918, when 1.2 million American troops, led by Gen. John J. Pershing, fought to advance on German positions.#embed-20181109-europe-1914-map iframe {width: 1px;min-width: 100%}
The Meuse-Argonne offensive remains America's deadliest battle, and while it helped force the end of the war, its cost can be seen in the sweeping rows of gravestones at St Mihiel, which lies in northeast France, about 50 miles from the German border."They are so important because you can't forget what these men and women did for us," said Jeff Hays, the cemetery's superintendent. "If these men and women didn't go and fight for us 100 years ago, where would we be now? What would our lives be like?"'Losing ground'Nov. 11 marks 100 years since Germany signed the armistice that brought the war to an end. More than 60 heads of state and government, including President Donald Trump and his Russian counterpart, Vladimir Putin, are set to attend a ceremony at the Arc de Triomphe in Paris.The Armistice Day commemorations are also the culmination of four years of events across the continent remembering the battles fought, the soldiers and civilians who fell and the establishment of a peace that turned out to be short-lived.Taking place at a time of international political instability, the Paris ceremony will be followed by the opening of the Paris Peace Forum, an international conference encouraging multilateralism that French President Emmanuel Macron hopes will become an annual event.A President in Paris
Nationalism and international self-interest meanthat "peace is currently losing ground every day," Macron said as he announced the event.While "the war to end all wars" set the stage for an even wider conflict just a few years later, it also laid the foundations for international organizations such as the United Nations.It's a lesson that historians are keen to keep alive, at a time when nationalist governments have taken power in Hungary and Poland, populist parties are on the rise across the continent and Britain is negotiating a messy departure from the European Union.
"Today, in an age of rising nationalism that ridicules these institutions for being 'global' in outlook, we need to remember that the worst-case alternative to international cooperation and multilateralism is the pursuit of national interests to the brink of armed conflict," said Catriona Pennell, associate professor of history at the University of Exeter in England.In France, where many of the war's largest and deadliest battles were fought, it's hard to ignore the legacy — and scars — of the war, even after 100 years.At the Aspasie vineyards in the north of the Champagne region, vintner Rémi Ariston found carvings in the attic of his family's farmhouse left by soldiers who used it as a temporary field hospital.
"In some places, we found bombs that didn't explode," Ariston, 75, explained. While working the vineyards over the last few decades, he has often found other reminders, including a type of cigarette lighter he believes was handed out to German soldiers.Despite the hardships of World War I and the toll it took on his family's land, the Ariston family has produced champagne for five generations."It's important for us to always keep in our minds that we arrive to do the peace, to keep the liberty, because the Americans came to help us," said Ariston's son, Paul-Vincent.A special connectionIn nearby Fismes, memories of the war run deeper.The front line ran through this town of 5,500, and a combination of fighting in the streets and heavy artillery destroyed 90 percent of its buildings. The arrival of American soldiers turned the fighting in favor of the French.Since the end of WWI, there has been a special connection with the American people, the town's mayor Jean-Pierre Pinon said."There is a relationship from people to people, not just from government to government," he said.
That message of international understanding is reinforced by this month's centenary ceremonies, said Gen. Curtis Scaparrotti, the commander of the U.S. European Command and NATO Supreme Allied Commander Europe."It is through that same alliance with the French and our other allies that we persevered here in World War I, it's that same strong alliance that allowed the victory in World War II, and it's that same strong alliance today that is going to secure the future, that created over 70 years of peace here in Europe, and will continue to do so in the future," he told NBC News.Trump began his weekend in Paris by expressing how happy he was to be able to mark the centenary of the war's end.
But the president's "America First" vision, fractious relationship with America's NATO allies and embrace of nationalism at home have left him at odds with those, like Macron, seeking to preserve the established post-war order.American Gerald York's grandfather, Sgt. Alvin York, fought in WWI and received a Medal of Honor for taking out an enemy machine-gun nest and capturing over 100 Germans. A reluctant war hero, he agreed only during World War II that his life be turned into the movie "Sergeant York," with actor Gary Cooper in the lead role.
"My grandfather always said that they thought they had won liberty, democracy and peace in the Great War. What they found out was that they only made a payment on it," York said. "It's a lease that you have and you have to make continual payments on it to keep."York is now involved with the U.S. World War I Centennial Commission and frequently meets with American students. He said that soldiers' sacrifice is too often forgotten."I talk to school kids and ask them what they know about World War I," he said. "They say they didn't study it."Carlo Angerer reported from Thiaucourt, France, and Rachel Elbaum from London.