U.S. listened to Khashoggi tapes, Turkish president claims
Comments
By Reuters with NBC News World News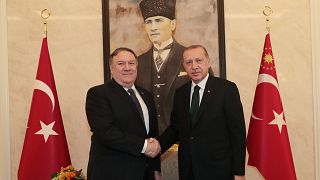 -
Copyright

Turkish presidential office
ISTANBUL — Turkey has given recordings on the killing of Saudi journalist Jamal Khashoggi to Saudi Arabia, the United States, Germany, France and Britain, President Recep Tayyip Erdogan said on Saturday.
NBC News has not verified the claims.
Khashoggi, a Washington Post columnist who was critical of the Saudi government and its de facto ruler Crown Prince Mohammed bin Salman, was killed after he entered the Saudi Consulate in Istanbul on Oct. 2.
Turkish sources have said previously that authorities have an audio recording purportedly documenting the murder.
However, a State Department spokesperson previously denied that Secretary of State Mike Pompeo heard an audio recording or saw a transcript of the recording after he held emergency meetings in Saudi Arabia and Turkey last month. A senior Turkish official similarly denied the reports.
"Turkey has not given a voice recording to Pompeo or any other American official," Turkish foreign minister Mevlut Cavusoglu said.
News
Speaking ahead of his departure for France to attend commemorations to mark the 100th anniversary of the end of World War One, Erdogan said Saudi Arabia knows the killer of Jamal Khashoggi is among a group of 15 people who arrived in Turkey one day ahead of the Oct. 2 killing.
Erdogan said also he may meet with President Donald Trump in Paris during the commemorations to mark the 100th anniversary of the end of World War One this weekend.
"When we go to Paris, we will try to secure an opportunity and we will realize a bilateral meeting," Erdogan said ahead of his departure.
Trump himself previously cast doubt on a leaked recording, telling reporters he was "not sure yet that it exists," but that if it does, the U.S. had asked Turkey to share it.