Trump cancels trip to US cemetery in France due to bad weather
Comments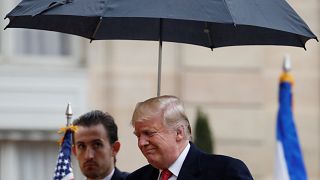 Donald Trump today cancelled a planned trip to a cemetery near Paris because of bad weather, the White House said.
The US president was due at Belleau Wood, a memorial to US soldiers that lost their lives in WWI.
More than 1,800 Americans died during the 1918 Battle of Belleau Wood, the first major engagement of the US army in the 1914-1918 war.
The cemetery is around 100 kilometres north-east of the French capital.
The White House said Trump had planned to go there by helicopter and underlined the "logistical difficulties" of such a journey.
Chief of staff John Kelly, a retired four-star general, and General Joe Dunford, the chairman of the Joint Chiefs of Staff, will attend the ceremony in Trump's place.
On Sunday, after a commemoration at the Arc de Triomphe to honour the Armistice centenary, Trump is scheduled to visit an American cemetery at Suresnes, on the western outskirts of the capital, where he will make formal remarks.