Rome's mayor acquitted of lying in corruption trial
Comments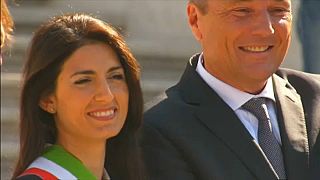 Rome's mayor Virginia Raggi has been found not guilty by a city judge on Saturday of giving false testimony in a trial.
The case concerned the appointment of Renato Marra as director of the city's tourism office.
He happens to be the brother of Raffaele Marra, who is one of Raggi's closest aides.
The ruling has averted a crisis in her party, the ruling 5-Star movement.
Raggi was elected mayor in 2016 in a vote that was seen at the time as a major breakthrough for the 5-Star.
It's always promoted itself as squeaky clean and promised to clean up both the rubbish on Rome's streets and the widespread corruption amongst city officials.
The code of ethics of the 5-Star says its elected officials have to resign if they are convicted by any court, meaning Raggi would have had to step down if the verdict had gone against her.