Why is French football club Paris Saint-Germain racially profiling? Euronews answers
Comments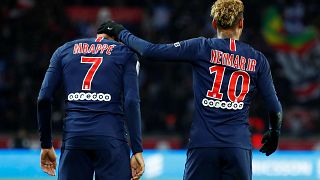 French football club Paris Saint-Germain (PSG) has been admitted that scouts illegally used racial profiling in its recruitment of young players.
On a form, players were asked to state their ethnic origins as French, North African, West Indian or African.
Did the club do anything wrong?
Yes, it is against French law to collect personal data pertaining to racial or ethnic origins of individuals.
How did the story emerge?
The allegations were made by the investigative website Mediapart who based the story on the so-called Football Leaks documents. Mediapart reported that questions of racial profiling by the club were first raised in March 2014 in relation to a talented 13-year-old player Yann Gboho, who was born in Ivory Coast, Africa. Mediapart claimed he was disregarded because of his origins.
The website also claimed that in 2104 the director of the club's recruitment unit across the country, excluding the Paris region, defended at a meeting the ethnic vision of the team, justifying a discriminatory recruitment policy.
What has PSG said?
The club admitted that scouts outside the Paris area had included the question about racial origins on recruitment forms but on its official website but said the forms were introduced at the "sole personal initiative of the head of this department."
The club's statement went on to say that "on being made aware of this at the start of October 2018, Paris Saint-Germain launched an internal investigation to understand how such practices could have existed and to decide on the necessary measures to be taken."
PSG reaffirmed its condemnation of "all forms of discrimination, racism or ethnic monitoring."
What has been the reaction?
France's Human Rights League (LDH) said it intends to file a legal complaint against PSG.
In a statement, the LDH said any such system was deeply racist and discriminatory.
"These practices, if confirmed, are illegal," it said. "This is why the Human Rights League has decided to file to the public prosecutor a complaint ... to punish the culprits."
What has the French government said?
France's Sports Minister Roxana Maracineanu warned of consequences and said she had asked French football authorities to investigate the case.
"If this is proved true, they are punishable by disciplinary or even criminal punishment. It is not acceptable that people are identified and recruited according to their skin colour or origin," she said.
What are the possible consequences for PSG?
If found guilty those responsible could face five years in jail and a 300,000 euro fine.