Fly Jamaica flight overshoots runway at Guyana airport
Comments
By Reuters with NBC News World News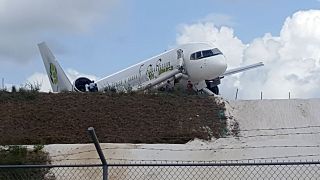 -
A Fly Jamaica Boeing 757 airliner heading for Toronto made an emergency landing at the Georgetown, Guyana international airport after the pilot reported problems with the plane's hydraulic system. Six passengers were injured.
The pilot of Fly Jamaica flight OJ256, which was carrying 120 passengers and eight crew, requested permission to return to Cheddi Jagan International Airport soon after take-off, Guyana officials said at a news conference.
The plane landed at Georgetown, Guyana's Cheddi Jagan airport at about 2:53 a.m. local time (1:53 a.m. ET), overshooting a recently extended runway, officials said.
Images posted on the airport's Facebook page showed the nose of the Fly Jamaica Airways plane resting against a perimeter fence.
Six passengers suffered non-life-threatening injuries.
Fly Jamaica said it was providing local assistance.
The Guyana Civil Aviation Authority launched an investigation, and the U.S. National Transportation Safety Board, which automatically assists with inquiries under international rules, was notified, officials said.
Boeing Co is looking into the incident, a spokesman said.
In 2011, a Caribbean Airlines jet carrying 163 people crashed as it landed at the Guyana airport, injuring several passengers. There was no extended runway at that time.
Last week, Indonesian airliner Lion Air flight JT610, an almost new Boeing 737 MAX 8, crashed into the sea soon after taking off from Jakarta, killing all 189 people on board.