FBI says fatal plane crash by Horizon employee was intentional
Comments
By Janelle Griffith with NBC News U.S. News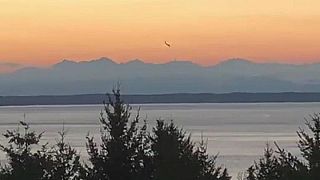 A Horizon Air employee intentionally crashed a turboprop airplane he stole near Seattle in August, but there was no clear reason why he did it, federal investigators said Friday.
The FBI released its findings about two-and-a-half months after Richard Russell, of Sumner, Washington, stole a commuter plane from a Seattle airport and flew it around before crashing on a small island.
The agency said its probe didn't find any evidence related to "wider criminal activity or terrorist ideology" and that Russell acted alone in the planning and execution of the unauthorized flight.
"Although investigators received information regarding Russell's background, possible stressors and personal life, no element provided a clear motivation for Russell's actions," the FBI said Friday.
Russell, who worked for Horizon Air as a ground service agent, was fully credentialed and had access to the area from where he took the plane, the FBI said.
"As part of his responsibilities as a ground crew member, Russell had knowledge regarding the operation of the aircraft's auxiliary power unit and familiarity with tow equipment and maneuvering," the agency said.
An hour after the unauthorized takeoff, the plane crashed on Ketron Island in Pierce County, Washington, about 40 miles from the airport. Two F-15 military jets followed the plane as it was in the air and attempted to redirect it over the Pacific Ocean when it crashed, the North American Aerospace Defense Command (NORAD) tweeted at the time.
The military jets were not involved in the crash, officials said. It caused a fire on sparsely populated Ketron Island, which is southwest of Tacoma and off the coast of Steilacoom. No one else was on the plane.
Russell's family said they were "stunned and heartbroken."
"We are devastated by these events, and Jesus is truly the only one holding this family together right now," the family said a day after the crash. "Without him, we would be hopeless."