Double gold for Kosovo on first day of 2018 Tashkent Judo Grand Prix
Comments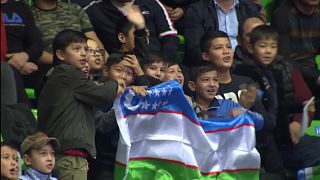 A high energy home crowd set a backdrop for a great opening day of judo at the 2018 Tashkent Grand Prix in Uzbekistan.
Two-time World Champion and Rio Olympic Champion Majlinda Kelmendi of Kosovo was our Woman of the Day, as the -52kg athlete proved her dominance throughout the first day of this year's tournament.
Then as she progressed into the semi-final, she blasted her way past Ana Perez Box of Spain to book a place in the final where she would win her first Gold medal on the IJF World Tour since February 2017.
In the final, she claimed the top spot on the podium throwing Evelyne Tschopp of Switzerland with an assertive hip throw for ippon and earning a gold medal for Kosovo.
"Judo is not what I do, Judo is what I am. For like 14 months I have been injured and I felt like I am not living. I was trying to do different things but I was not happy, and today believe me this gold medal means so much to me. It's like I felt the same as I felt in Rio at the Olympics, this is why I love Judo," said Majlinda Kelmendi in an interview.
Man of the Day
Slovenia's Adrian Gomboc was crowned Man of the Day as he climbed the -66kg rostrum to secure his third Grand Prix gold medal of his career.
In the final, Gomboc would meet Uzbekistan's Sardor Nurillaev and the home crowd was electric in support of their competitor. However, it would be Gomboc, throwing with a reactive technique, who would claim the title in Tashkent. There was a great display of sportsmanship as the Slovenian put his arm around his opponent at the end of the contest.
"Normally I like to fight home players, even today it was a very nice atmosphere. A pleasure to fight against a home player. It was even a bigger boost for me to fight, to give everything I had. It was a really tough fight in the kumi-kata but I managed to throw him and secure this win," said Adrian Gomboc in an interview after the contest.
Second gold for Kosovo
Kosovo took their second Gold medal on Day 1 of the competition in the -48kg category. Distria Krasniqi powered her way past Eva Csernoviczki of Hungary, throwing her experienced opponent with an ouchi-gari attack, and then she continued to pile on the pressure, raising her country's flag high above the podium.
Silver medal for Uzbekistan
The hopes of the Uzbek crowd for a gold medal were resting on Diyorbek Urozboev in the -60kg final. The Olympic bronze medalist would meet Boldbaatar Ganbat in his final contest of the day, but a ko-uchi-gake attack from the Uzbek was countered by the Mongolian, forcing Urozboev to take silver.
Grand Prix glory for Germany's Stoll
In the -57kg category, it would be Theresa Stoll of Germany who would take Grand Prix glory in Tashkent. Stoll threw Nora Gjakova of Kosovo twice in the final - first with a waza-ari on a counter-attack, then for ippon with a o-soto-gari almost at the end of the match - giving the German athlete her third gold medal at a Grand Prix event.
Move of the Day
Our Move of the Day was produced by Shakhram Akhadov on his route to taking a bronze medal for the home nation in the men's -66kg category. A drop shoulder technique set the home crowd roaring!