Memories of World War One soldiers kept alive by graffiti
Comments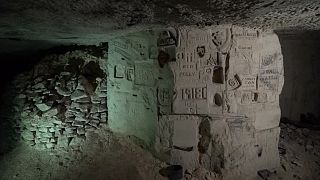 A maze-like network of tunnels can be found near the northeastern French town of Braye-en-Laonnois.
These extraordinary tunnels house the memories of thousands of World War One soldiers who left their mark on the walls of the Froidmont quarry, not far from the scene of the horrific Second Battle of the Aisne.
More than 20 kilometres of limestone walls bare over 1,000 inscriptions, drawings and carvings from German, French and American soldiers who found refuge in the tunnels.
"These quarries were very useful, they were used for shelter, as underground fortresses. In the Somme or in Belgium, the Germans had to dig in order to hide, but here everything was already in place. There's over 10 metres of rock above, so it's very good protection. It's a place to sleep, to rest, an infirmary, it really is a fortified underground village," says President of the Chemin des Dames Association Gilles Chawin.
American soldiers from the 26th "Yankee" Division claim the majority of the graffiti. The 26th got its nickname because it was composed entirely of National Guard units from New England.
The tunnels were occupied from September 1914 to October 1917 by German soldiers followed by French and American troops once the territory was regained by Allied forces.
Around 10 million people died on all sides during World War One, which was fought largely on French soil between 1914 and 1918. This graffiti ads to the lore of the War, which remains firmly anchored in French memories.
"1917 was a terrible year, so there was a lot of broken material on their (American soldiers) road," says Chawin, "they were arriving from Soissons on foot and the further they got from Soissons, the closer they got to the front and the worst the scenery got. So they were well aware that they were going to take part in something extraordinary and so they had to leave a trace of their presence. They didn't know what would become of them the next day."
Thousands of trenches snaked across northern France and Belgium where soldiers fought a gruelling war of attrition while bunkered down in mud. At the time, progress was so slow that territorial gains could be measured in a matter of metres won over months or even years.
The tunnels are now kept on lockdown and opened only upon request. This is done to ensure the protection of a precious history.