Hungary's Viktor Orban wants to destroy Europe, claims Verhofstadt | Raw Politics
Comments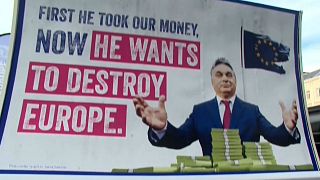 Liberal MEP Guy Verhofstadt has claimed Hungary's prime minister Viktor Orban is trying to destroy Europe.
In a move that signalled campaigning is underway for next year's European elections, Verhofstadt unveiled a poster in Brussels attacking Orban.
It read: "First he took our money, now he wants to destroy Europe."
The attack comes after Hungary's government released a series of videos deriding Verhofstadt's stance on immigration.
"We have seen Viktor Orban very aggressively attacking liberal democracies," Verhofstadt said.
"He wants to create an illiberal state and we Europeans do nothing at all and don't react.
"We don't even say 'we're going to stop you'," he continued. "Well it's time that we [start] doing that."
Watch the video above to see Raw Politics panel discuss the campaign poster.