US sanctions target Iran's oil exports, shipping and banks
Comments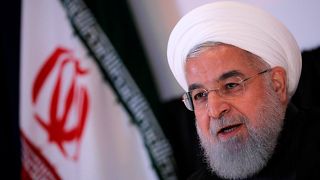 Iran has hit back at the latest round of US sanctions calling on the United Nations to hold Washington accountable for re-imposing sweeping curbs aimed at choking off Iran's economy.
The sanctions will target oil exports, shipping and banks. Tehran says the move defies a UN Security Council resolution.
Iran says it will continue to sell oil in defiance of what President Donald Trump described as the ''toughest ever'' measures against Tehran.
Kevin Book, managing director of Clearview Energy Partners research firm in Washington DC, said the first round re-imposed in August have already had a significant impact on the Iranian economy.
"It's taken out about half of Iran's crude oil exports through November, by our estimates, relative to the exports they were putting onto the market in June," he explained. "So that's a pretty big impact for a country which derives 80% of its tax revenue from oil imports."
The US says it wants to reduce Iran's oil exports to zero - a goal Mr Book says will depend on how closely the sanctions are observed.
"Iran's tanker fleet is sufficient in size to deliver the volume going out today. The question is will the buyers be willing to defy the US and risk sanctions," he said. "Enforcement from the US could do a lot to change minds. Right now we have a history last time around of India, Turkey and China continuing to buy even with sanctions. So it's a question of whether the Chinese, the Indian and the Turkish will continue to buy this time."