Turkey's Erdogan says Khashoggi kill order came from 'highest levels' of Saudi government
Comments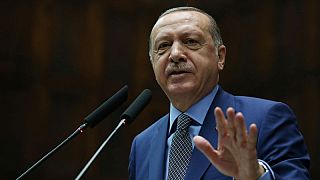 -
Copyright

HANDOUT(Reuters)
The order to kill journalist Jamal Khashoggi came from the "highest levels" of the Saudi government, Turkish President Tayyip Erdogan claimed in an article in the Washington Post on Friday.
In the op-ed, Erdogan said he did not believe "for a second" that King Salman was involved in the murder, and also refrained from directly accusing Crown Prince Mohammed bin Salman.
"We know that the perpetrators are among the 18 suspects detained in Saudi Arabia," he wrote.
"We also know that those individuals came to carry out their orders: Kill Khashoggi and leave. Finally, we know that the order to kill Khashoggi came from the highest levels of the Saudi government."
Khashoggi, a contributor to the Washington Post, was killed after entering the Saudi consulate in Istanbul on October 2 to secure documentation for his upcoming marriage.
The columnist, who was critical of the Saudi government, had been living in self-imposed exile in the US ahead of his murder, fearing retribution for views.
An adviser to Erdogan last week said bin Salman had "blood on his hands" over Khashoggi's killing.
The Saudi government initially insisted Khashoggi had left the consulate, but later said he died in an unplanned "rogue operation". 
 Istanbul's chief prosecutor's office this week said Khashoggi was strangled as soon as he entered the consulate and his body was dismembered and disposed of.