Donald Trump ramps up the immigration rhetoric before midterms
Comments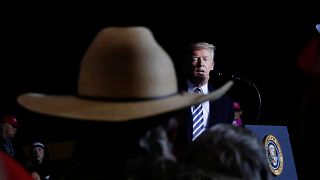 -
Donald Trump is ramping up the rhetoric— just days away from the midterm elections, US President Donald Trump is running a campaign that starts and ends with immigration. He has announced that he will change asylum laws to keep more people out of the country, and that migrants throwing rocks at border police could be shot at.
"We're not going to put up with that, they wanna throw rocks at our military, our military fights back," said Trump to journalists at a news conference in the White House on Thursday
"We're going to consider, and I tell them consider it a rifle, when they throw rocks like they did at the Mexico military and police, I say consider it a rifle."
He also said he would try to change American asylum laws with just an executive order.
"Under this plan the illegal aliens will no longer get a free pass into our country by lodging meritless claims in seeking asylum," he said.
"Instead, migrants seeking asylum will have to present themselves law fly at a port of entry, so they are going to have to lawfully present themselves at a port of entry."
It's not clear exactly how his plan would be implemented, much like his claim earlier this week that he would attempt to end the right to citizenship for those born on American soil. That was a proposition even his own party had trouble backing— Republican House Speaker Paul Ryan immediately responded by saying it was not feasible to do so by executive order.
The focus on the southern border plays well with Trump's voter base. NBC's Ali Vitali spoke to voters outside a Trump rally in Missouri and heard from many of them that the two top issues on the ballot in the midterms are jobs and immigration.
"We are a nation of laws and you can't just storm the border," said supporter Kristie Zimmerman.
"If they get in, there's going to be another one, and another one and another one and it won't stop. There's a way to get in, and this is not the way to do it. It's not like they're going to shoot anybody or anything, I really don't believe that."
"The immigration situation seems to be getting worse, it's far overdue as far as being dealt with," said fellow supporter Jeff Perkins
The most important elections since Trump was elected are set for Wednesday, when seats in both houses of Congress as well as governor seats will be up for grabs. Democrats would dearly love to wrest control of both houses from the Republicans, giving them clout to stymie President Trump's agenda, while Republicans are looking to increase their currently razor thin majority margins.