Direct flights resume between FYR Macedonia and Greece
Comments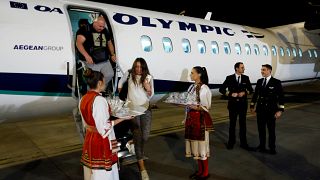 Direct flights have resumed between the capitals of FYR Macedonia and Greece after a 12-year pause. 
The resumption is part of an ongoing thawing of relations between the two neighbours over FYR Macedonia's name.
Greeks find FYR Macedonia controversial because its name is similar to a neighbouring region in northern Greece.
Direct flights were halted in 2007 when FYR Macedonia's previous conservative government named the Skopje airport after the ancient Greek warrior Alexander the Great, angering Athens.  
But under a new accord earlier this year, the government agreed to rename the country North Macedonia and the airport "International Airport Skopje".
Some people in both nations regard the deal as a sellout and it still has to be formally ratified by both sides.
However, it was enough to allow for the resumption of the Athens-Skopje flight, which was welcomed by FYR Macedonia's deputy prime minister for European affairs, Bujar Osmani, who was speaking in Athens.
"Greece will be our closest ally, and now I am heading to the airport as we re-establish an air connection that symbolises a new strategic partnership in the region," Osmani said after talks with Greek Alternate Foreign Minister George Katrougalos.