NASA's planet-hunting Kepler telescope retires after nine years exploring space
Comments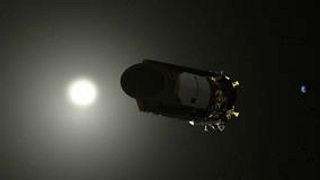 -
Copyright

NASA/Ames/Dan Rutter
NASA has retired its Kepler space telescope, which discovered some 2,600 planets outside of the solar system over its nine-year mission, because it has run out of fuel needed for further operations.
The US space agency announced this week that it had decided to retire the telescope within its "current, safe orbit, away from Earth".
NASA lauded the discoveries made by the spacecraft, many of which it said could be promising places for life.
"As NASA's first planet-hunting mission, Kepler has wildly exceeded all our expectations and paved the way for our exploration and search for life in the solar system and beyond," Thomas Zurbuchen, associate administrator of NASA's Science Mission Directorate in Washington, said in a statement.
"Its discoveries have shed a new light on our place in the universe, and illuminated the tantalizing mysteries and possibilities among the stars," he added.
NASA launched the Kepler telescope on March 6, 2009, in a bid to find out if Earth-like planets that may harbour life are common or rare in other star systems.
During its mission, Kepler found 2,681 confirmed planets and another 2,899 candidates.
"When we started conceiving this mission 35 years ago we didn't know of a single planet outside our solar system," Kepler mission's founding principal investigator, William Borucki, said in the statement.
"Now that we know planets are everywhere, Kepler has set us on a new course that's full of promise for future generations to explore our galaxy."
Kepler was succeeded by NASA's Transiting Exoplanet Survey Satellite (TESS), which was launched in April for a two-year, $337 million (€295 million) mission.