Stephen Hawking's wheelchair up for grabs as great physicist's items auctioned
Comments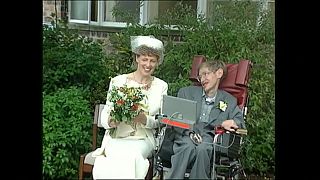 Personal items belonging to Stephen Hawking, including his 1963 PhD thesis and wheelchair are to be sold in an online auction by UK auction house Christie's. The pieces are to be auctioned over 9 days.
Items from the personal estate of Hawking - who is best known for his research on black holes - are already attracting a lot of international interest with his thesis predicted to fetch up to €169,000.
Hawking once starred in an episode of the cartoon series The Simpsons. His copy of the script is also up for grabs in the auction. 
The head of the Books and Manuscripts department at Christie's, Thomas Venning, said this was an auction that would especially resonate with Hawking's fan base.
"The whole idea...was to provide something that was accessible to his admirers so that people could connect with him and remember his extraordinary story."
The late British physicist died in March of this year at the age of 76. Proceeds from the sale will go to the Stephen Hawking Foundation and the Motor Neurone Disease Association.