Watch: Footballer celebrates goal by proposing to girlfriend
Comments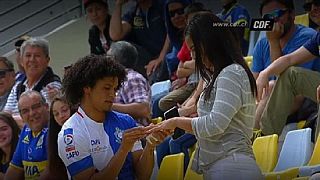 Two goals, an injury and an engagement — but not necessarily in that order.
All this happened in an exciting 90 minutes for midfielder Eduard Bello, who proposed to his girlfriend in the middle of the Chilean league match between Antofagasta and Everton on Sunday.
Bello put Antofagasta ahead after just two minutes and then ran into the stands where he kissed his girlfriend, beach volleyball player Gabriela Brito, and got down on one knee before putting a ring on her finger.
The Venezuela international grabbed the ring from an accomplice on the sides before climbing up into the terraces and presenting it to his partner.
After applause from fans in both ends, a clearly delighted Bello ran back to the field and continued with the game.
His team conceded goals in the 40th and 44th minutes but Bello came back seconds before half-time, taking the score to 2-2 with his 13th goal in 25 games this season.
However, the 23-year-old was taken off with an injury after a tackle in the middle of the second half.