New EU rules will force Australian farmers to choose between treatment or trade | View
Comments
By Dr Paula Parker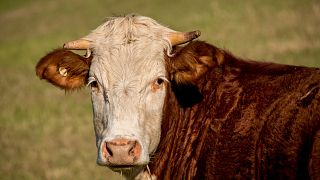 -
Copyright

Pixabay/Sandid
The opinions expressed in this article are those of the author and do not represent in any way the editorial position of Euronews.
Seeing a sick animal is heart-breaking in any circumstance, but it can be especially hard on farms, where disease can pose a risk to entire herds as well as to the prospects of the farmer.
As veterinarians, we work closely with farmers to reduce the threat of disease and ensure that standards for food animal health, welfare and food safety in Australia are among the highest in the world.
This has underpinned the export success of Australian farming and contributed to our reputation for quality beef, veal and lamb.
But new EU rules could create unnecessary pressure by insisting that veterinary medicines cannot be used any differently outside of the bloc if farmers want to export their produce to European countries – even if it is legally compliant with their native regulations.
The bill, which was voted through by the European Parliament last week, ignores any regional disease threats or environmental conditions that might require certain nationally-approved treatments. Instead, veterinarians and farmers would be held to EU standards the world over if they wanted to trade with Europe.
We recognise that antibiotic resistance is a growing global concern and it is one of the Australian Veterinary Association's top priorities but countries must be allowed to tackle this problem according to their own circumstances, disease threats and regulations.
Australian veterinarians are trained and experienced in the principles of responsible antimicrobial use, and our goal is always healthy, disease-free animals who do not require treatment.
However, despite our best efforts, disease does still occur. And when it does, it is essential that veterinarians use the most appropriate registered medicines for the animals and conditions. This is underpinned by the World Organisation for Animal Health (OIE) principle that recognises equivalent systems.
Decisions, then, about the health and welfare of Australian animals should not be dictated by Brussels, and farmers and veterinarians should not be put in the position of potentially having to select an inferior therapy to maintain market access.
As the EU is Australia's largest trade partner after China, with AUS$3 billion in agricultural exports to the region each year, and with a new EU trade deal on the table, this new legislation could be damaging both economically as well as ethically.
When formulating treatment plans for Australian animals, we take into consideration the individual animals and their specific risk factors, local disease knowledge, the needs of the production system and the products available that have gone through a rigorous registration process with the Australian Pesticides and Veterinary Medicines Authority (APVMA).
As part of this rigorous process, the APVMA sets limits for the maximum acceptable levels of medicine residues as well as export slaughter intervals and withholding periods on the label of registered veterinary medicines. These safeguards are in place to ensure the safety of animal products for human consumption and to help reduce the risk of drug resistance.
This approach ensures the welfare of the animals and addresses the issue of antibiotic resistance by ensuring the most appropriate choice is made for the circumstances.
Not only is it therefore unnecessary for the EU to intervene in the use of veterinary medicines outside of Europe, it is thoroughly counter-productive to global trade and animal wellbeing. It implies that our existing systems are not rigorous enough to satisfy European standards despite offering Australian consumers sufficient levels of food safety.
Animal health is more than just keeping animals disease-free – it's about allowing them to reach their full potential, and this involves a range of factors depending on the environment, resources and local health threats.
The health, welfare and food safety of our animals simply should not be reduced to a bargaining chip by the EU.
Dr Paula Parker is President of the Australian Veterinary Association.
Opinions expressed in View articles are solely those of the author.