Japanese Princess steps down to marry
Comments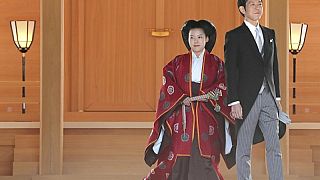 Japan's Princess Ayako married a commoner at a traditional ceremony at Tokyo's Meiji Shrine.
The 28-year-old princess tied the knot with 32-year-old Kei Moriya – an employee of shipping company Nippon Yusen.
Ayako is the third daughter of Emperor Akihito's late cousin Prince Takamado,
She becomes the latest female royal to leave Japan's imperial family after Princess Mako abdicated in 2017.
The shrinking royal family - which mirrors the broader trend of Japanese society - has raised calls for changes in the Imperial Succession Law.