Syria summit: The "return of refugees must be voluntary"
Comments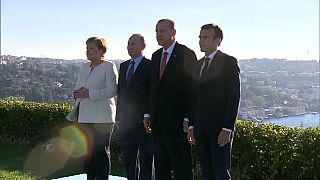 A constitutional committee for Syria should be formed as soon as possible.
That's according to Turkish President Tayyip Erdogan who added he hoped it would be formed before the end of the year.
It comes after a four-way summit on Syria in Istanbul together with Germany's Angela Merkel, France's Emmanuel Macron and Russia's Vladimir Putin.
U.N. Syria envoy Staffan de Mistura, who's stepping down at the end of next month for family reasons, also took part.
Erdogan says the four leaders discussed the return of refugees to Syria and they agreed that the returns should be voluntary.
They're hoping to lay the groundwork for eventual peace in a country devastated by years of war.
A key challenge is their divided opinions about Syrian President Bashar Assad, who is backed by Russia and Iran and whose government has retaken most of the territory that rebels seized during the war that has killed over 400,000 people.
The leaders hope a cease-fire in Syria's north-western province of Idlib can provide some momentum for peace efforts.
Idlib and adjacent areas are the last stronghold of the rebels, who rose up against Assad in 2011. The area is home to an estimated 3 million people, more than half of whom have already fled as government forces advanced.