Lion cub discovered in French garage
Comments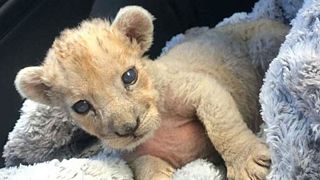 French customs agents have found a lion cub illegally being held in a garage in the southern city of Marseille, just one day after another was found in a Paris suburb.
The tiny female cub, aged between one and two months and weighing just a few kilos, was discovered by Marseille's customs brigade on Wednesday, according to a statement by the French customs agency.
The animal was being held inside a pet's travel cage in a garage in the north of the city.
A garage employee, who was placed in detention, claimed he had taken the cub from a building in Marseille at the request of its former owners who did not know how to deal with it, the statement said.
The cub was handed over to French animal protection group SPA.
The discovery came a day after French police seized a six-week-old lion cub from an apartment in Paris' Valenton suburb on Tuesday, arresting a 30-year-old man.
Earlier this month, a jogger in the Netherlands found an abandoned lion cub in a small cage outside the city of Ultrecht.