Defendant in D.C. 'mansion murders' convicted on 20 counts
Comments
By Dennis Romero with NBC News U.S. News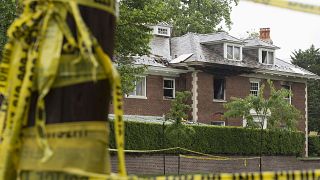 Copyright

SAUL LOEB AFP - Getty Images

-
A jury on Thursday convicted 37-year-old man in the killing of a family of three and their housekeeper, a case that came to be known nationally as the Washington "mansion murders."
The federal jury was in its third day of deliberation when it concluded that Daron Wint was guilty on all 20 counts, including murder, burglary, extortion and theft in the May 2015 slayings of Savvas Savopoulos, 46; his wife, Amy Savopoulos, 47; their 10-year old son, Philip; and housekeeper Veralicia Figueroa, 57.
Their bodies were found after the Savapoulos' multimillion-dollar home was set ablaze May 14, 2015, authorities said.
"District residents were particularly outraged by this case because of the extreme atrocities that were inflicted on the Savopoulos family and Ms. Figueroa," Metropolitan police Chief Peter Newsham said in a statement Thursday.
Wint's defense attorneys said in court that he had been kicked out of his residence and was in a state of desperation when he went to the home of his former boss, Savvas Savapoulos, on May 13 of that year, according to NBC News' Washington affiliate WRC.
Prosecutors said Wint held his victims hostage and ultimately killed them in a premeditated act. Savvas and Amy Savopoulos as well as Veralicia Figueroa were all beaten with a bat and stabbed; Philip Savopoulos was stabbed and burned, according to the grand jury indictment against Wint.
Wint stole $40,000 of the family's money, set the home ablaze and fled, prosecutors said.
"In the aftermath of the murders, Wint performed a series of Internet searches for subjects such as how to beat a lie detector test, 10 hideout cities for fugitives, and five countries with no U.S. extradition treaty," according to a statement Thursday from the U.S. Attorney's Office in Washington.
Law enforcement tracked Wint down and arrested him May 21, 2015.
Wint faces a potential sentence of life behind bars with no possibility of release, prosecutors said. Sentencing was scheduled for Feb. 1.
NBC News reached out to the public defender's office to ask if it would appeal the conviction but there was no immediate response.