African migrants arrested in connection with Italian teenager's death | The Cube
Comments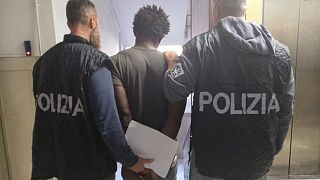 Copyright

Twitter/Polizia di Stato
Three migrants from Senegal and Nigeria have been arrested in connection with the drugging, gang rape and death of an Italian teenager, which has reignited Italy's tense immigration debate.
Desiree Mariottini, 16, was last heard from on October 17, when she called her grandmother to say she missed the last bus home and would stay overnight in Rome with a friend.
Her body was found two days later, on October 19, in an abandoned building in the San Lorenzo district of Rome. She had been drugged and gang raped, and is believed to have died from an overdose.
Mayor of Rome Virginia Raggi announced on Twitter that she would move to place a 9 p.m. curfew on alcohol consumption in the San Lorenzo district, police would carry out stricter checks and the building where the 16-year-old's body was found would be demolished. The building is a notorious squat and hub for drug dealing.
In a following tweet, she said police were still on the hunt for two accomplices to the "atrocious crime."
"As the mayor, as a woman, and as a mother, I can not tolerate the harrowing image of a girl brutally raped killed," she added in a post to Facebook.
Three migrants of Senegalese and Nigerian origin were arrested on Thursday in connection with her death, rekindling Italy's ongoing debate over immigration.
Italy's immigration debate
But it was the reaction from Italian Interior Minister Matteo Salvini that gained much attention.
Even before the arrests were made, Salvini had used the case to push his anti-immigration policies. He visited the scene several times, promising to return with a bulldozer, which was met both by protesters chanting "jackal" and supporters who applauded him.
"I will do everything to make the worms guilty of this horror pay," he said in a tweet following reports of the arrests.
While some criticised Salvini for politicising the case, many of Italians took to social media to reignite discussion of the country's policy on immigration.
Italian Twitter user Sabrina Donna Rachele said she thought it was not propaganda to use the case as an example for discussion, saying "if those filthy beings had not been in Italy, Desiree would still be alive."
But others remained firm in their negative view of using the case to boost policy. This Twitter user from Italy's Lombardy region said politicians should "take the culprits to the court of law," but "not to use the human tragedy to political advantages."