Romania's top court halts disputed reforms attempted by ruling party
Comments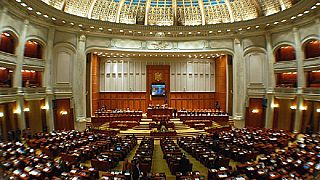 Romania's Constitutional Court struck down on Thursday afternoon many changes to the criminal code made by the ruling Social Democrats that had been criticized by the European Union, diplomats and magistrates.
The changes are part of a series of legal and personnel changes made by the Social Democrats in the two years since they took power that is seen as threats to judicial independence and could further heighten European Union concerns about democratic values in some of its eastern member states.
The top court rejected a slew of the changes made to the criminal code, but details of its decision will be released at a later date.
Earlier this month, the court also rejected about 70 percent of changes made to criminal procedures that were challenged and that would have raised the burden of proof.
Both bills will now return to parliament for discussion.
Transparency International ranks Romania as one of the EU's most corrupt states and Brussels has been keeping its justice system under special monitoring since its 2007 entry.
The EU, who is already seeking sanctions against Poland and Hungary for weakening the rule of law are concerned Romania is following suit.
Prosecutors have secured a spate of convictions in recent years against lawmakers, ministers, and mayors, including Social Democrat leader Liviu Dragnea. Their investigations have exposed conflicts of interest, abuse of power, fraud and awarding of state contracts in exchange for bribes.
On Wednesday, Romania's justice minister demanded the dismissal of the prosecutor general, the last major figure in the anti-corruption drive that has won praise from Brussels for exposing high-level corruption, including the theft of EU funds.
The Social Democrats have said their legal initiatives were aimed at aligning legislation with EU norms and address abuses allegedly committed by magistrates.
Earlier this month, the Venice Commission, the Council of Europe's advisory body on constitutional matters said the changes to the criminal code and procedures were made with "excessive speed and insufficient transparency".
It added they would weaken magistrates' ability "to fight corruption offences, violent crimes, and organised criminality".