No money for your bus ride? Pay with plastic instead
Comments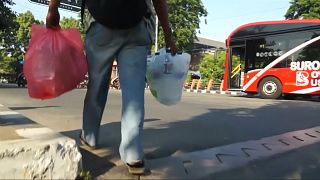 -
In Surabaya, Indonesia's second-largest city, your bus ticket is free - if you recycle.
The "price" for a bus ride is 5 plastic bottles, or 10 plastic cups, depending on their size. One bus can collect 250 kg of plastic a day - or about 7.5 tonnes a month.
Every day, plastic makes up 15 percent of Surabaya's waste. That's nearly 400 tonnes each day.
"Garbage, like plastic bottles, piles up in my neighbourhood, so I brought it here so the environment is not only cleaner but also to help ease the workload of garbage collectors," said Surabaya resident Linda Rahmawati.
The collected plastic is then sold to recycling companies to fund the city's green spaces. Surabaya hopes this scheme will help meets its ambitious target: to be completely plastic-free by 2020.