'Human Spider' Alain Robert climbing Heron Tower in London
Comments
By David K. Li with NBC News World News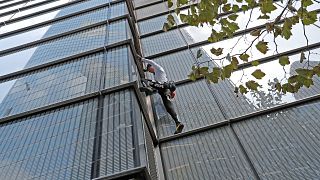 -
A French daredevil known as the "Human Spider" brought traffic in a busy London neighborhood to a halt Thursday as he attempted to scale the outside of a 46-floor skyscraper.
Alain Robert, 56, told Sky News that he scouted the British capital for two days before picking the 755-foot-high Heron Tower for his dangerous climb.
"For me, it seems doable, meaning acceptable in terms of difficulties," he told the British news network just before embarking on his challenge. "I just want to make sure I am not putting my life at risk."
London policerushed to the neighborhood at about 1:30 p.m. local time (8:30 a.m. ET) and closed down several blocks around Heron Tower, also known as Sales Force Tower.
The famed urban climber Robert had also considered scaling the 525-foot-tall "Walkie-Talkie" tower on Fenchurch Street, or the 737-foot "Cheesegrater" on Leadenhall Street before settling on Heron Tower, he told Sky.
Heron Tower is the third tallest in London, behind only the 95-floor The Shard and 50-floor One Canada Square.
He's climbed other famous buildings such as Burj Khalifa in Dubai and the New York Times building in Manhattan.