Garou makes his debut in the Middle East
Comments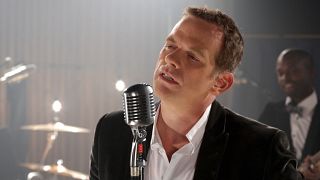 Garou, one of the most successful French-Canadian recording artists in the world, is making his debut in the Middle East as part of his 20 Year Jubilee Tour.
The artist shot to fame after playing Quasimodo in the stage musical Notre-Dame de Paris. Since then, Garou has been awarded one diamond, and fifteen platinum records for hits like "Belle", "Seul" and "Sous le Vent", a duet performed with Celine Dion.
He has also participated as a coach in several editions of The Voice in both Canada and France.
Ahead of his performance in Dubai, Garou talked to Euronews about his ambition to one day incorporate Arabic beats into his music and spoke of how important it was to reach a new audience here in the UAE and beyond.
Rebecca McLaughlin-Duane, Euronews:
You're in Dubai to celebrate your 20 Year Tour Jubilee Tour and it's your first-ever concert in Dubai. What can your fans expect?
Garou:
It's the first time in Dubai, after 20 years, it's like feeling like a kid again because I feel like a newcomer. The best thing for me in my career is to go to new places and discover new people and enjoy the energy of a new place and try to understand it, so I'm happy to be here.
Rebecca McLaughlin-Duane, Euronews:
Now you'll be playing a mixture of your classic tracks and some new material and you'll be mixing them up with other music. Are you in any way worried that the fans will expect hear what they know and love?
Garou:
I know, I'm a little scared because I'm transforming some songs but I think it's interesting and I believe that the fun we have on stage with the musicians should transcend to people.
I'm a really big fan of Ray Charles, so there's a Ray Charles medley that I incorporated in the show. And some new band like X Ambassadors, Goo Goo dolls that I integrate into my songs.
Rebecca McLaughlin-Duane, Euronews:
Now you haven't yet incorporated Arabic beats into your music. Could this be on the cards?
Garou:
It could be because I was editing some images that I took during a day of lots of activities and I was incorporating a song from Sting, Desert Rose, which is a fantastic mixture of cultures. I might give it a try at the show. We'll do the rehearsal later on and try it. We never know!
Rebecca McLaughlin-Duane, Euronews:
So this might be something that you might make into an album one day potentially? Can your fans expect new material with an Arabic twist?
Garou:
Honestly, yesterday I was having all this music in my head and listening to music and I think ithe best way to make people understand each other is by celebrating music. I think it's the best way of communication. The proof is that I've had the chance, the great opportunity, to sing in French in many non-francophone countries and I see the smiles and the sparkles in the eyes. There's a lot of love-sharing through music. So, I believe it would be the best way, to make an album with some Arabic artists.