Winning US lottery ticket of almost $1.6bn just shy of world record
Comments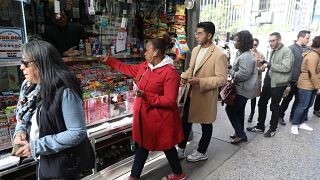 One lucky lottery ticket holder has hit the jackpot and won almost $1.6 billion (€1.4 billion) in the US Mega Millions draw, which is just short of the world record.
The ticket was sold in South Carolina and matched all five numbers 5, 28, 62, 65, 70 and the mega ball 5, that were drawn on Tuesday night.
Winners that match all six numbers can choose an immediate cash payment of $877.8m or receive the sum of almost $1.537 billion in instalments over 29 years.
The buyer of the ticket beat odds of 1 in 303 million, making it one of the largest jackpots in US history.
The winning ticket beat the former Mega Millions record of $656 million (over 575 million Euros) set in March 2012 and Lottery officials said the final sales numbers showed Wednesday's winning lottery jackpot was just shy of the all-time world record in 2016 of $1.586 billion (1.39 billion Euros), which was a shared prize.
Before the draw, lottery officials had been reporting an expected record-breaking $1.6 billion jackpot, based on estimates tied to historical patterns, but after the draw, officials rolled back the jackpot total to $1.537 billion, based on actual ticket sales.
It is possible that the world will never know the winner, as South Carolina is one of eight states where winners can remain anonymous.
The lottery firm also said Tuesday's draw saw 36 people win second prize, and 419 win the $10,000 (nearly 9,000 Euros) third prize.
In the four days leading up to the draw, lottery fever gripped the US with local media reporting queues coming out of corner stores.