Europe briefing: Five stories to know about today
Comments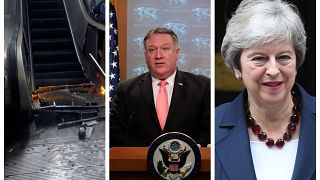 Rome escalator collapse injures 20
At least 20 people have been injured, some seriously, after an escalator collapsed at a Rome metro station on Tuesday.
Most of those hurt are thought to be Russian football fans.
Footage of the incident shows the escalator hurtling people to a lower floor at speed, causing a crush at the bottom.
The CSKA Moscow fans were on their way to their team's Champions League group encounter with Roma, who beat the Russian side 3-0.
Trump slams Saudi Arabia's 'worst cover-up ever'
The US President has issued a stinging attack on Saudi Arabia's handling of the death of Saudi journalist Jamal Khashoggi.
"The cover up was one of the worst in the history of cover ups," he told reporters from the Oval office on Tuesday, adding "somebody really messed up".
Whoever came up with the idea to kill the Washington Post columnist is in "big trouble", he continued.
The president later labelled the entire affair as "a total fiasco", yet stopped short of directly criticising the Saudi kingdom's de facto ruler, Crown Prince Mohammed bin Salman, who strongly denied involvement, according to Trump.
MEPs to vote on proposed EU-wide single-use plastic ban
MEPs are set to vote Wednesday on a proposed ban against single-use plastics in an effort to reduce plastic waste in our oceans.
The list of items - which would be banned from sale from 2021 if the rules pass - include cotton buds, plastic cutlery and straws which make up 70% of marine litter.
Other measures the ban would carry include consumption reduction targets for food containers and drinks cups, and a requirement for plastic producers to contribute to the cost of disposal and clean-up.
Member states would also be expected to collect 90% of single-use plastic drink bottles by 2025.
Labour ministers push for gay marriage and abortion law change in NI
In the absence of a full sitting assembly in Northern Ireland, two Labour MPs are pushing for Westminster to reform same-sex marriage and abortion law in the country.
Stella Creasy and Conor McGinn tabled the amendment to a bill being pushing through parliament to stabilise the country's public services.
Same-sex marriage is not yet legally recognised in Northern Ireland, and abortion is illegal except in specific medical cases.
British Prime Minister Theresa May has publicly affirmed her support for same-sex marriage and abortion rights, but wouldn't be able to back the amendment without upsetting her coalition partners -Northern Ireland's Democratic Unionists, who oppose it.
Without the DUP, May would not have a majority in Parliament and will struggle to pass Brexit legislation ahead of the UK's proposed exit from the EU in March.
UK police seek 'Friends' suspect in theft case
Police in Blackpool have unexpectedly received a huge response to a Facebook post requesting information about a suspect of a robbery taking place in a local restaurant in September.
After posting this CCTV screenshot of the suspect to Facebook, thousands of people posted comments pointing out the subject's uncanny resemblance to a major TV and film star – David Schwimmer.
Many made puns relating to the actor's most famous role of fictional character Ross Geller in the long-running television sitcom 'Friends'.
At the time of writing, the post has been shared more than 50,000 times and received almost 100,000 comments.
Police later confirmed the actor had been cleared as a suspect, telling Facebook users "we're so sorry it has to be this way".
The real suspect is yet to be identified.
As it happened on Wednesday, October 24
This is how we covered key developments this morning: