Saudi king and crown prince meet murdered journalist's family
Comments
By F. Brinley Bruton and Associated Press and Reuters with NBC News World News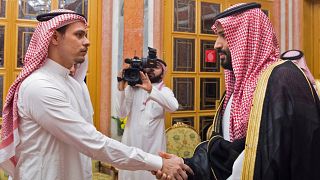 Copyright

Saudi Press Agency

-
Saudi King Salman and his son Crown Prince Mohammed bin Salman received family members of murdered Washington Post contributor Jamal Khashoggi in Riyadh, state news agency SPA reported on Tuesday.
The royals greeted the journalist's sons, Salah and Sahel, at the Yamama Palace in Riyadh. A friend of the Khashoggis has told The Associated Press that Salah is under a travel ban. The individual spoke to the agency on condition of anonymity, fearing reprisal.
The visit, which was filmed and photographed, came as Saudi Arabia sought to contain a firestorm of criticism over its handling of Khashoggi's disappearance after he visited the Saudi Consulate in Istanbul on Oct. 2.
After vehemently denying any official involvement in the incident, on Friday the kingdom said the journalist had actually died in a "rogue operation"during a fight in the consulate. This followed allegations by Turkish authorities who said they had audio recordings proving Khashoggi died and was dismembered inside the building. Other regional diplomats have told NBC News that they believe his remains were removed from the consulate in boxes.
Khashoggi, a former regime insider who last year went into self-imposed exile, was a prominent critic of the crown prince and the 33-year-old royal's crackdown on dissent.
Earlier, the Saudi cabinet promised to hold to account those who were responsible for Khashoggi's death and those who "failed in their duties" in the case that has strained ties between Riyadh and the West.
The absolute monarchy is a longtime U.S. ally and considered a bulwark against Iran, but the crisis over Khashoggi's death has helped crystallize growing unease about the crown prince, the country's de facto ruler.
news
Earlier Tuesday, Turkish President Recep Tayyip Erdogan said evidence showed Khashoggi's killing was "brutal" and "premeditated," contradicting Saudi Arabia's most recent version of events.
Erdogan's address coincided with the opening of the Future Investment Initiative, a glittering gathering under the auspices of the crown prince that is aimed at showcasing oil-rich Saudi Arabia as a moderate high-tech mecca. In recent days, a slew of businesses leaders and media companies announced that they were pulling out of the Riyadh meeting dubbed "Davos in the Desert."
Bin Salman received a standing ovation when he made an unannounced stop at the conference, and appeared at an afternoon panel next to Jordan's King Abdullah II, but made no public remarks.