UK, France, and Germany say urgent clarification needed over Khashoggi death
Comments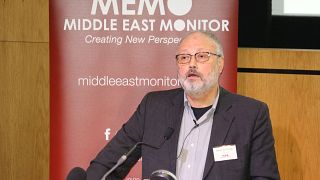 The UK, France, and Germany have demanded a thorough investigation into the circumstances of the death of the journalist Jamal Khashoggi.
The EU countries said in a joint statement on Sunday that urgent clarification is needed to establish exactly what happened and that the hypotheses raised by the Saudi investigation need to be backed by facts to be considered credible.
They added: "There remains an urgent need for clarification of exactly what happened ... beyond the hypotheses that have been raised so far in the Saudi investigation, which need to be backed by facts to be considered credible."
Saudi's Foreign Minister Adel al-Jubeir told Fox News on Sunday the incident was "an aberration, a mistake" and gave his condolences to the family over the death and promised to punish those responsible. 
"Unfortunately, a huge and grave mistake was made and I assure them that those responsible will be held accountable for this," he said.
Jubeir added Saudi wants to hold those responsible for the killing and that the kingdom is working on finding out where Khashoggi's body is. 
After denying any involvement in the disappearance of Khashoggi, for two weeks, Saudi Arabia on Saturday said the journalist died in a fistfight at the consulate. But an hour later, another Saudi official said he was killed by a chokehold.
On Sunday, the US Treasury Secretary Steven Mnuchin said the kingdom's explanation was a "good first step but not enough". He added it was too soon to discuss any sanctions against the world's biggest oil exporter.
Turkey's President Tayyip Erdogan has said the necessary statements of the case will be revealed on Tuesday.