Six hospital dinner ladies from Wales retire early after winning EuroMillions jackpot
Comments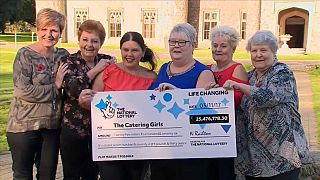 A group of women from Port Talbot in Wales are celebrating winning 28 million euros (25 million pounds) in the Euro Millions lottery.
The six women, who all worked as caterers at a local hospital, formed a syndicate to play the lottery.
"We've always said we were going to win this lottery." said lottery syndicate member, Jean Cairns.
"When she came to my house what did you say? She said I've got something to tell you, I thought 'oh, somebody had died, somebody had died.' So I'm sitting there looking at her now, she said 'we've won the lottery' and I'm looking at her and I'm saying 'have we?' She said 'yes Jean, we have' and I said 'oh my God!'. I mean, it's like you're in another world after that."
Their newest member, who only joined just over a year ago, said she picked some random numbers for the 3 November draw.
"When did I join, was it a year ago? Not long at all is it? I was gonna pull out of it because we were saving for the wedding. I thought 'well, you know, 10 pounds a month is 10 pounds a month, so right I'm gonna pull out today.' I'm so glad I never did." said Louise Ward, the newest member of lottery syndicate.
The women, nicknamed "The Catering Girls," decided to retire en masse from the hospital after learning of their luck.
"So the rumours were going round so what we decided then was the six of us would stick together and we get through today together, help each other, and we went down yesterday to our work – together – and we handed in our resignations." said Julie Saunders, the lottery syndicate leader.
They now plan to use their winnings to travel to Las Vegas and Graceland, and to buy a tumbledryer.