Jamal Khashoggi: What we know about the journalist's death | Euronews Answers
Comments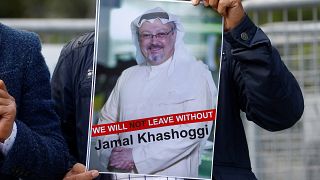 Saudi Arabia admitted on Saturday that journalist Jamal Khashoggi died in its Istanbul consulate.
A critic of Saudi Crown Prince Mohammed bin Salman who lived in the United States and was a Washington Post columnist, Khashoggi went missing on October 2 after entering the Saudi consulate in Istanbul, Turkey, to obtain documents for his upcoming marriage.
But what do we know of his death so far and how much remains unclear?
Saudi Arabia's account of events
In a statement, Saudi Arabia's public prosecutor said Khashoggi got involved "in a fist fight" with men inside the consulate that ended in his death.
A Saudi official told Reuters: "A group of Saudis had a physical altercation and Jamal died as a result of the chokehold. They were trying to keep him quiet."
The Saudi statement said that 18 Saudi citizens had been arrested and that two senior officials had been sacked.
But the Saudi government remained vague in their statement to the Saudi Press Agency and have not disclosed the whereabouts of Khashoggi's body.
The admission comes after several weeks of Saudi claims that the journalist had left the consulate alive.
The Saudi King has reportedly ordered the setting up of a ministerial body chaired by the crown prince that will oversee the restructuring of the kingdom's intelligence agency.
Who are the men sacked by the Saudi government?
Saudi TV said King Salman had sacked two senior officials: Saud al-Qahtani, known to be from the crown prince's inner circle, and deputy intelligence chief Ahmed Asiri.
Qahtani was an adviser to Mohammed bin Salman while Asiri is known for his role as spokesman for the kingdom about the war in Yemen.
Turkey's account of events
Turkish officials said Khashoggi was killed inside the consulate and that his body was removed — a claim Saudi Arabia has previously denied but Turkey said they have audio recordings to prove it.
Officials added they had not shared the audio recordings with anyone after reports claimed they had passed them to the United States.
Pro-government Turkish newspaper Yeni Safak has published extracts of said audio in which Khashoggi is allegedly being interrogated and tortured.
Turkish officials allege a team of 15 suspected Saudi agents flew in and out of Istanbul the day of the disappearance.
CCTV footage broadcasted on Turkish TV showed vehicles driving up to the consulate before the journalist's visit.
Last Friday, Turkish authorities widened their probe by searching a forest where the body could have reportedly been dumped and interviewing consulate staff.
Local police searched the Saudi consulate and the consul's residence on October 15 but the investigation is ongoing.
Reactions
United States
US President Donald Trump first said the Saudi account of events was "credible" but was cautious not to mention any sanctions against his gulf ally and appeared unwilling to distance himself too much from the Saudi leadership.
Later on Saturday, Trump said he was not satisfied with Saudi's explanation of the events, but said it is possible the Saudi crown prince may have been unaware of the death.
However, US Senators remain more suspicious of the Saudi account.
"To say that I am sceptical of the new Saudi narrative about Mr. Khashoggi is an understatement," said Republican U.S. Senator Lindsey Graham.
While, Democratic Senator Jack Reed, the Ranking Member of the Senate Armed Services Committee, said the Saudis were still not forthcoming with the truth.
"This appears to have been a deliberate, planned act followed by a cover-up," he said in a statement
In a later statement, the White House said it would continue to press for "justice that is timely, transparent, and in accordance with all due process".
United Nations chief Antonio Guterres said he was "deeply troubled" by the kingdom's disclosure on Saturday, adding there needed to be "full accountability for those responsible".
European Union
The EU's foreign policy chief Federica Mogherini has called for a thorough investigation into the journalist's death.
"The emerging circumstances of Jamal Khashoggi's death are deeply troubling, including the shocking violation of the 1963 Vienna Convention on Consular Relations ...," Mogherini said ina statement.
"Therefore the European Union, like its partners, insists on the need for continued thorough, credible and transparent investigation, shedding proper clarity on the circumstances of the killing and ensuring full accountability of all those responsible for it," she said.
Turkey
Turkey has said it does not want anything covered up in the case of the slain journalist, nor will it blame anyone in advance, said spokesman for Turkey's ruling party, Numan Kurtulmus, on Saturday.
He added that Turkey was close to a "conclusive result" of the investigation.
Germany
Chancellor Angela Merkel condemned the killing and said explanations so far given of the circumstances of his death were inadequate.
"We condemn this act in the strongest terms," she and Foreign Minister Heiko Maas said in a joint statement issued on Saturday. "We expect transparency from Saudi Arabia about the circumstances of his death ... The information available about events in the Istanbul consulate is inadequate."
Expressing deep sympathy to Khashoggi's friends and relatives, they said those responsible for his death must be held accountable.
United Kingdom and Australia
Britain said it was considering its "next steps" while Australia said it pulled out of a planned investment summit in Saudi Arabia to protest the killing.
The Netherlands
Dutch Prime Minister Mark Rutte said on Saturday that further investigations are needed after Saudi Arabia's statement on Khashoggi's death.
Egypt
Egypt praised what it called the "decisive" and "brave" actions by the Saudi King in the investigation of Khashoggi's death.
Saudi Arabia social media
There has been widespread support for the king and crown prince on Twitter with hashtags such as "#I am Saudi and I defend it" and "#Saudi kingdom of justice" trending.
Further Implications
David Butter, an associate fellow in the Chatham House Middle East and North Africa Programme, told Euronews the consequences of the Khashoggi case in the country will depend on the role the crown prince takes in the kingdom.
"From what we've seen he's still in a very strong position and there's no sign of any particularly strong opposition to him being in control."
As for the kingdom's foreign relations? It depends on the conclusions from the Turkish investigation, said Butter.
But for now, "European leaders might find some sort of way of saying that we need a credible investigation without explicitly criticising what the Saudis have done," he said.
It is clear that the Saudi statement leaves many questions unanswered, added Butter. People will be wanting to know: "why it's taken so long for them to admit that his death happened in the consulate and where the body is and whether the Turkish claims on torture are true".
Any consequences for trade between western powers and Saudi Arabia?
Butter believes there won't be any particular implications for oil.
As for arms sales "it depends on the country but in the UK there might be some parliamentary oversight that could become more difficult to secure," he said.
"There's, as ever, a lot of conflicting interests here in each of the countries that sell weapons to Saudi Arabia. They consider Saudi Arabia to be an important client so it's an awkward situation," he said.
But added, "there is more of a chance at sanctions erected at particular Saudi individuals".