Trump's praises 'body slam' assault on Guardian journalist
Comments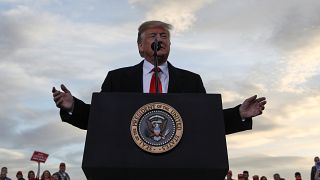 The British government has condemned US president Donald Trump's praise of a Republican congressman who assaulted a Guardian journalist last year.
Trump said "Any guy that can do a body slam... he's my guy," at a rally in Montana.
Adding that Congressman Greg Gianforte was "smart" and "by the way, never wrestle him".
A spokeswoman for the UK prime minister Theresa May told The Guardian on Friday: "Any violence or intimidation against a journalist is completely unacceptable."
While outrage over Trump's remarks erupted on social media.
A New York Times reporter wrote on Twitter: "The president is congratulating a criminal on committing a crime."
The violent incident happened on the 24 May last year when the Guardian's political correspondent, Ben Jacobs, asked Gianforte a question about healthcare policy in the course of a special congressional election in Montana.
The congressman had pleaded guilty to assaulting the journalist and was ordered to pay $385 (€345), complete 40 hours of community service and 20 hours of anger management counselling.
The reporter agreed not to sue Gianforte if he wrote a letter of apology and donated $50,000 to the Committee to Protect Journalists.
The Congressman later sent a letter to Jacobs which offered a "sincere apology".
The CPJ on Friday demanded an apology from Trump, its advocacy director, Courtney Radsch, said: "We are disturbed once again to see President Trump standing up for those who would attack the press."
While in a statement, the Guardian's US editor John Mulholland said: "To celebrate an attack on a journalist who was simply doing his job is an attack on the first amendment [of the US Constitution] by someone who has taken an oath to defend it."
He added the incident: "runs the risk of inviting other assaults on journalists".
Trump's comments come amid an investigation into the presumed death of journalist Jamal Khashoggi in Saudi Arabia's consulate in Istambul more than two weeks ago.