Turkish forensic teams search Saudi consulate for clues on missing journalist
Comments
By Saphora Smith and Kristina Jovanovski with NBC News World News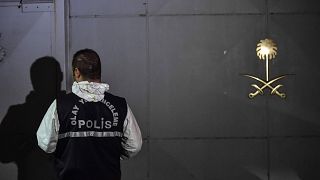 -
ISTANBUL, Turkey — Turkish forensic teams searched the Saudi consulate in Istanbul overnight as the investigation into the disappearance and alleged murder of Saudi writer Jamal Khashoggi deepened.Wearing white forensic suits and blue gloves, investigators emerged from the building early Thursday carrying boxes and plastic and paper bags. They loaded the material onto white vans.
On Wednesday, Turkish forensic police followed Saudi investigators into the residence of the Saudi consul for the first time. The search by the Turkish team included the roof and the deployment of a drone over the area. Footage from the scene showed investigators using ultraviolet lights to look for stains.President Donald Trump said Wednesday that the U.S. had called on Turkey to share any audiorecording it might have of Khashoggi's alleged killing."We have asked for it... if it exists," he told reporters at the White House, adding that such evidence "probably does" exist.
News
The president also said he was waiting on a full report from Secretary of State Mike Pompeo who visited Saudi Arabia and Turkey this week in response to the disappearance of Khashoggi, a Washington Post contributor.The former regime insider who left Saudi Arabia last year amid a sweeping crackdown under Crown Prince Mohammed bin Salman went missing on Oct. 2 after entering the Saudi consulate.Turkish authorities have told U.S. officials that they have recordings from inside the Saudi consulate that provide evidence that Khashoggi was killed there, officials told NBC News.The recordings were key to Turkey being confident enough to say that Khashoggi is dead and that Saudi Arabia killed him, according to both U.S. and Turkish officials, along with other individuals briefed on the intelligence.Gruesome details in the alleged recordings have emerged. NBC News is not reporting the details of these accounts.Turkish authorities claim Khashoggi was murdered by a 15-member Saudi hit squad who stayed in Turkey for only a brief period and then left. The Saudi government has denied and condemned the allegations.
Turkish officials revealed new information about members of the alleged Saudi hit team Wednesday, providing NBC News with scans of passports they say belonged to seven of the 15 Saudis who arrived in Istanbul ahead of Khashoggi's disappearance.Turkish pro-government Sabah news site later published images of members of the alleged assassination squad reportedly taken at Turkish passport control on the day Khashoggi disappeared. The newspaper claims that the group then checked into two hotels and left the country later that day. None of this information has been verified by NBC News.Late Wednesday, The Washington Post published what it described as the "last piece" by Khashoggi which fittingly reflects on the lack of free press in all but a few corners of the Arab world.Kristina Janovska reported from Istanbul; Saphora Smith from London.