'Don't unscrew Poland from the EU', Tusk tells Warsaw
Comments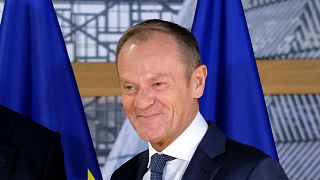 European Council President Donald Tusk has reacted to reports that Polish officials removed a plaque bearing his name, saying it was more important they did not "unscrew" Poland from the EU.
Poland's embassy to the EU in Brussels reportedly removed a plaque commemorating the 2011 opening of the building, which listed former Polish prime minister Tusk as one of the officials present.
The removal of the plaque came ahead of Polish Prime Minister Mateusz Morawiecki's visit to Brussels for the Brexit summit talks on Wednesday.
In a tweet, Tusk said: "The plaque is not a big deal. What matters is that they do not unscrew Poland from the European Union".
Poland's foreign ministry said the plaque had only been removed temporarily as part of broader refurbishment work.
Poland was the only country in the 28-member EU last year to oppose extending Tusk's mandate as president of the European Council, while the ruling Law and Justice Party has clashed with the bloc on issues including rule of law.