British American Tobacco cuts revenue target for new products
Comments
By Reuters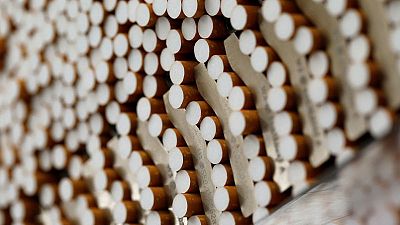 -
LONDON (Reuters) – British American Tobacco <BATS.L>, the second-biggest international tobacco company by revenue, cut its full-year revenue target for next-generation products on Tuesday, citing a flat market in Japan and a product recall in the United States.
The company said it expected revenue from cigarette alternatives — tobacco-heating devices and e-cigarettes — to reach 900 million pounds this year, down from a previous target of 1 billion pounds.
The revision is due to a reduction in planned inventories in Japan, the most developed market for tobacco-heating devices, as to growth there has flattened, and the effect of a recall in the United States of its Vuse Vibe.
The maker of Lucky Strike and Dunhill cigarettes also said currency fluctuations would hurt its full-year adjusted earnings per share growth by 7 percent, assuming rates were unchanged for the rest of the year.
On a constant currency basis, the company said it expected to exceed its target for high single-digit adjusted earnings per share growth.
The company made the comments in a trading update ahead of analyst meetings in coming weeks.
In cigarettes, BAT said it was gaining share in an overall market whose volume is expected to shrink about 3.5 percent this year, as more people quit smoking.
In the United States, industry volume is expected to fall 4 to 4.5 percent this year, with a slight improvement in the second half.
(Reporting by Martinne Geller; Editing by Edmund Blair)