Hungary Homeless ban 'will save lives'
Comments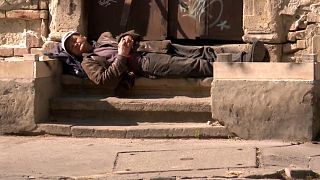 A ban to stop homeless people living on the streets or in wooded areas in Hungary will save lives, a state secretary said on Monday.
The new law went into effect on Monday.
Bence Retvari, parliamentary state secretary of human resources, said the ban will stop people sleeping in forests in winter, thereby preventing them from freezing to death.
"The only way to get back on your feet after becoming homeless starts from getting temporary accommodation, because from there they can get social support, clothes, jobs, community work and training", he said.
Existing legislation had failed to tackle homelessness in the country effectively and stricter rules were needed, he said, adding that the government was working with charities and had funnelled nine billion forints into confronting the problem.
Speaking to reporters on Saturday, he said: "We believe we need to give additional help and not additional rights to homeless people."
The homeless ban was proposed in June, when Fidesz MP Istvan Bajkai told a press conference that such people were a "burden" on city-dwellers and were dragging down Budapest's image.
Instead of sleeping rough, there were support services and shelters that could house them, he added.
But critics have said enforcing the ban would be impossible. According to Budapest-based NGO The City Belongs to Everybody, there are only an estimated 11,000 places available in temporary accommodation for 30,000 homeless people in Hungary.
"We still don't know what will happen with the animals of homeless people, their dogs for example, and we don't what will happen if there is no free space at homeless shelters. Where can you go then," said Vera Kovacs, a member of From Street to Home Association.
Zolton Aknai, director of the Shelter Foundation added: "There are a lots of people with addiction, with mental health or psychiatric problems, and the current system of shelters can not supply them properly because the system lacks specialists."