Death toll from floods in south-west France 'climbs to at least 12'
Comments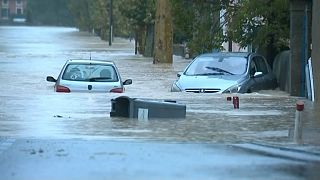 At least a dozen people were killed in heavy rains that hit south-western France on Monday morning, officials say.
Several months of rain fell in just a few hours in the early hours, according to Alain Thirion, government prefect for the Aude.
Six helicopters were scrambled to rescue people from rooftops.
Among the worst hit areas were the villages of Conques-sur-Orbiel and Villardonnel, where waters rose as high as the first-floor windows of some houses.
The flash floods struck without warning. At least one victim was swept away by raging waters while sleeping, Thirion said.
In five hours up to 180 millimetres of rain fell in the area around Carcassonne, in between Toulouse and Perpignan, near the Spanish border.
Authorities have urged residents not to use their cars because the majority of roads had been cut-off by the rain.
It comes after strong winds lashed parts of Portugal and Spain over the weekend.
Torrential rains are not uncommon in France at this time of year, but meteorologists have said that exceptionally warm sea water along the Mediterranean coast of southern France may be intensifying the rains.
The year so far is France's hottest since 1900, according to the state meteorological service.