Donald Tusk tears through Paris on a scooter
Comments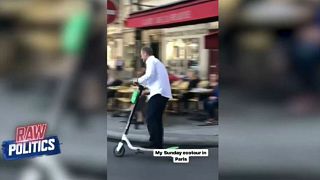 President of the European Council, Donald Tusk, was filmed by passerby tearing through Paris on a scooter this past weekend.
Tusk posted some pictures of what he called his "Sunday ecotour in Paris" on an Instagram story as well.
This is not the first time, the President of the European Council shares a picture of his weekend activities. Earlier this month, he posted a picture of himself running in New York City with the Statue of Liberty behind him.
Tusk is gearing up for Brexit talks with Brexit EU Chief Negotiator Michel Barnier and British Prime Minister Theresa May later this week.