Portugal prime minister reshuffles government
Comments
By Reuters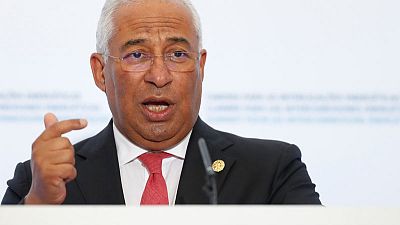 -
LISBON (Reuters) – Portugal's prime minister has carried out a reshuffle of his cabinet following the resignation of the defence minister and completion of next year's budget, making changes at four ministries ahead of a general election in 2019.
The changes include adding to Cabinet Minister Pedro Siza Vieira's responsibilities by also putting him in charge of the powerful economy ministry, which has recently gained importance thanks to surging foreign investment and strong economic growth.
This will be Prime Minister Antonio Costa's biggest cabinet reshuffle since his minority Socialist government came to power in 2015 and will aim to bolster the administration going into next year's election. The Socialists lead in opinion polls with about 40 percent support.
The cabinet reshuffle comes after the government this weekend approved next year's draft budget, which will be presented on Monday to parliament.
The reshuffle was announced in a statement by the office of President Marcelo Rebelo de Sousa, who has to approve the nominations. The new ministers will be sworn in on Monday.
Siza Vieira, a lawyer, joined the government a year ago after previously working for law firm Linklaters. He will replace outgoing Economy Minister Manuel Caldeira Cabral. Under the change the energy sector will be transferred to the environment ministry.
Defence Minister Jose Azeredo Lopes resigned on Friday amid an investigation into a suspected army cover-up of the theft of a cachet of arms from a military depot last year. He will be replaced by Joao Gomes Cravinho, who is currently the European Union's ambassador to Brazil.
Graca Maria da Fonseca will become the new minister of culture after working as secretary of state for administrative modernisation.
Marta Temido, who previously headed the central administration of the public health system, will take over as health minister.
(Reporting by Axel Bugge; Editing by Mark Potter)