Hurricane Leslie causes widespread damage in Portugal
Comments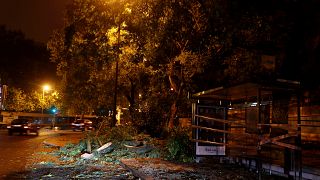 Portugal has been hit by a rare Atlantic hurricane, with some weather experts describing the storm as the most powerful to hit the country since 1842.
The remnants of Hurricane Leslie swept across coastal areas late on Saturday, packing wins of more than 170 kilometres an hour.
The strong winds brought down trees, cutting power to around 15-thousands homes. More than 30 flights were canceled and several roads were cut.
One of the worst hit areas was the coastal city of Figueira da Foz. One bar owner in the city said the force of the wind destroyed the main window.
''I told my staff and customers to shelter in the bathrooms and in the kitchen areas protected by walls to prevent a more serious situation, such as from flying glass," he said.
On Sunday the storm was moving north-east across the Iberian peninsula.
The Spanish emergency services warned of the possibility of flash floods and urged motorists to be vigilant in case of strong winds. Parts of southern France have also been put on alert for storms and flooding.