Dozens killed after Yemen airstrike
Comments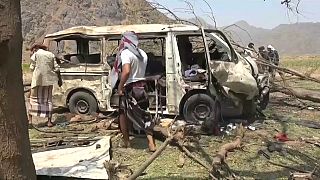 At least 17 people have been killed after a Saudi-led airstrike in the Yemeni port city of Hodeida. Eight members of the same family were among the victims. 
That's according to Yemeni rebel officials. Medical sources said 20 people were also wounded in the attack. The strike was aimed at Yemen's Shiite rebels known as Houthis
Hodeida, with its key port installations that bring in UN and other humanitarian aid, has become the center of Yemen's conflict, with ground troops allied to the coalition struggling to drive out the rebels who control it.
The coalition intervened in Yemen's war in 2015 to restore the internationally-recognized government to power. The war has killed more than 10,000 people, displaced more than two million and driven the country to the verge of widespread famine.