After release from Turkey, pastor meets with Trump in Oval Office
Comments
By Linda Givetash and Kalhan Rosenblatt and Associated Press with NBC News World News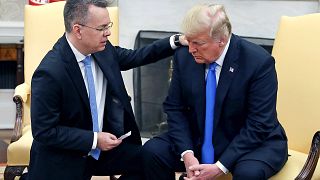 -
President Donald Trump met with American pastor Andrew Brunson in the Oval Office on Saturday, one day after the North Carolina pastor was freed from detention in Turkey.Brunson was released on Friday after nearly two years in detention for terrorism charges and arrived in Washington D.C. on Saturday afternoon.Sitting in the Oval Office with Brunson, Trump congratulated the pastor repeatedly and thanked Turkish President Recep Tayyip Erdogan for facilitating the release."Everybody wanted this to happen. I think we can say this was bipartisan. I think if there was ever a bipartisan event, this was it," Trump said.Brunson thanked Trump, his administration and senators who he said visited him while he was imprisoned. Brunson's wife, Norine Brunson, and their children also thanked Trump.
"We want to thank the administration," Andrew Brunson said. "You really fought for us."He then asked to pray over the president, before kneeling and asking God to give the president "supernatural wisdom to lead the country."
Politics
NBC News reported a day before Brunson's release that a deal had been struck between the U.S. and Turkey that would result in certain charges against him being dropped. Senior Trump administration officials told NBC News that discussions between the two countries included a commitment by the U.S. to ease economic pressure on Turkey.But Trump tweeted on Saturday that there was no deal made with the Turks and that he doesn't "make deals for hostages."
Brunson, a North Carolina native, was one of two dozen Americans charged with helping Kurdish militants and supporters of Fethullah Gulen, the cleric whom the government blames for planning a failed coup in 2016. Brunson, who had lived Turkey for more than two decades, has denied the charges.The evangelical pastor who led a small congregation in Turkey had been convicted and sentenced to more than three years in prison. But he was ordered released for time served and allowed to leave the country after spending nearly two years in detention. A separate charge of espionage was also dropped.Trump was among many politicians celebrating his release. It's viewed as a triumph for both the president and Republicans who are counting on the support of evangelical Christians in the November election.Trump told a crowd of thousands of supporters in Lebanon, Ohio, on Friday, "We've had a lot of success."