Indonesia: 11 school children killed in flash floods
Comments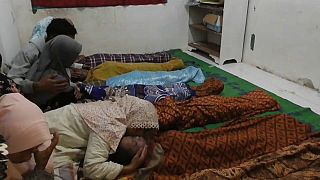 At least 21 people have been killed, including 11 school children in Indonesia.
It's after flash floods and landslides were triggered by torrential rains in Sumatra.
Rescuers are still looking for a missing student.
The school classroom wall collapsed when a nearby river overflowed with people trapped under mud and debris.
Irsan Sinuhaji, Regional police chief says, "The flooding is perhaps due to heavy rain over the mountain. There was an afternoon class going on at the Islamic school when the flood came and according to reports, there were 29 children in the class."
Two people were found dead after their vehicles were swept away by the river. Four people died in landslides in North Sumatra. In West Sumatra four more were killed, including two children.